Our Boat Lifts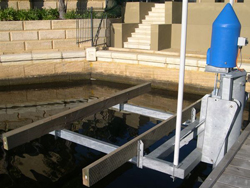 Canal Boat Lifters design and manufacture engineer certified boat lifts.
Whilst the most popular boat lift is the single post boat lift, Canal Boat Lifters also manufacture twin post boat lifts in 3 tonne format and also a model to suit your party pontoon.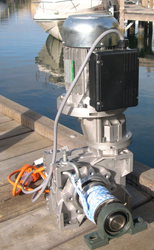 Boat Lift Features:
High quality, enclosed single motor and gearbox design that is virtually maintenance free.
Easy to use boat lifts.
Classy design to complement your jetty and home.
Sturdy structure.
10 tonne breaking strain cable.
All of out boat lifts come with a 12 month warranty.
Council application forms are taken care of for you.
Optional Remote.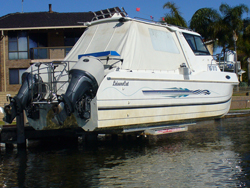 Boat Lift Benefits:
Convenient year-round storage.
Reduces algae, barnacles and hull deterioration.
Never anti-foul again.
Boat lifts deter vandalism and theft.
Reduces the wear and tear to hull, sides and rails.

All of our boat lifts will help to add value to your property and keep the resale value of your boat high. Why not get in touch with us now for your obligation free quote.